Administration Department
Paul & Susan Johnson
Owners
Paul is married to Susan, his beautiful wife of 37 years and they have 4 children and 9 grandchildren.
Paul is passionate about motorcycling and is dedicated to making sure his management and staff are commited to providing customers with great service and a positive shopping experience.
Paul is very active in the daily operation of the dealership and it's not unusual to see Paul visiting with customers everyday in the showroom.
Kyle Johnson
General Manager
Kyle has been a team member since the dealership opened in 2006 and has worked in every department. His passion for motorcycles started on his dirt bike at age 10. He is married with two children. Kyle's goal when stepping into the general manager role was to create an atmosphere where the customers feel like family. "This brand and industry is a lifestyle, and we want to share the same passion as our riders". If you haven't been to Pig Trail lately, you haven't been to Pig Trail! See you soon!


Melody Dean
Retail Operations Director
Sales Department
Ben Mayner
Sales Assistant Manager
Darryl Willis
Riding Academy/ Rentals
Sean Armstrong
Dream Maker
Michael Turic
Dream Maker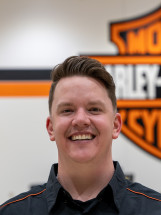 Service Department
Larry Gribble
Service Manager
Larry has been working with Harley-Davidson since 1994. He owns 2 bikes, a 1992 FXRS-SP and a 2011 Softail.

He loves Harley-Davidson so much he named one of his daughters Harley and she also has a Harley-Davidson motorcycle.


Kyle Eldridge
Service Advisor
Warren Sherman
Service Advisor
Shaun Boyd
Service Technician
Chris Plaisance
Service Technician
14 Years Experience
Master Level Recognition
Bryan Myers
Service Technician
Randall Edwards
Service Technician
Parts Department
Matt
Parts Manager/ Chrome Consultant
Duste
Parts Associate
Duste has been a team member at Pig Trail H-D since 2011 providing expert-level parts & accessories service due to training from Harley-Davidson and 20 years in the motorcycle business.

Duste enjoys assisting customers in fulfilling their Harley-Davidson dreams. He is a proud Road Glide owner and eats miles for breakfast, lunch and dinner!
Shawn
Parts Associate
Shawn has been a member of the P&A team here at Pig Trail H-D since August of 2015.

Shawn has been involved with motorcycles most of his life.

He enjoys motorcycles, riding motorcycles and motorcycle racing of all genres. He also enjoys mountain biking and hiking with his dog Elsinore.
Tami
Warranty Manager
Graduated from MMI in December 2011

Started working for Harley-Davidson in 2012

March 2016 joined Pig Trail Harley-Davidson

Loves fishin', campin', shootin' pool and riding with my love on his XR1200.

"Live while you're alive"
MotorClothes® Department
Kristyn Bowman
General Merchandise Shipping/ Receiving Associate
David
General Merchandise Associate
Charita
General Merchandise Associate/ Cashier
Finance Department
Carlos Diaz
Finance & Insurance
Ken Matters
Finance & Insurance